Trial class (1 class + 1 class free)
30 CHF
Drop-in
30 CHF
Pre-paid classes (series)
5 classes : 140 CHF
10 classes : 260 CHF
20 classes : 480 CHF
40 classes : 840 CHF
Students/Unemployed/AVS: 15% discount
Unlimited offers
1 month: 160 CHF
3 months : 440 CHF
6 months : 780 CHF
1 year : 1'300 CHF
The unlimited passes have to be paid in one instalment.
Pre-paid series are valid 2 years.
Reimbursements or extensions only upon presentation of a medical certificate.
Payment can be made at the studio in cash or by card.
In order to book a class online, please note that you need a valid pass or class card. Therefore, if you are new to the studio or your membership has expired, please contact info@yogaworks-lausanne.ch.
---
Private or semi-private sessions
60 minutes: CHF 100 (1 p.) – 120 (2 pp.)
90 minutes: CHF 120 (1 p.) – 150 (2 pp.)
---
Gift certificates
Gift certificates are available upon request. You can purchase them directly at the studio or we can send them to you by post
Payment can be made by e-banking:
Yogaworks Sàrl
UBS Lausanne (1002)
IBAN CH24 0024 3243 2542 5501 J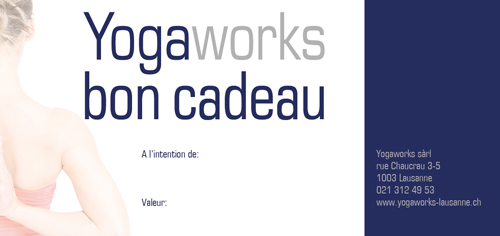 ---